For International Students
Taiwa Gakuen
Education Inc.
Kyoto, Japan
1

A school with

over 90 years of history

-Introduction of the 4 schools

of Taiwa Gakuen-
We are a general education and research institute that presents the education necessary for work and real life in the fields of "nutrition, medical care, welfare, cooking, confectionery production, baking, food education, hotel, bridal, and tourism".
Certified by the Governor of Kyoto
Member of General Incorporated Association of Vocational Schools of Kyoto
Osaka Regional Immigration Bureau selected all four Taiwa Gakuen Group schools as "Appropriate Schools".
For those who want to use Japanese to gain
more knowledge and skills in the professional field.
Applicant Qualifications
JLPT level N2 or above,
JEJU 200 points or more,
BJT 420 points or more
Kyoto Culinary Art College

Professions you can aim for

Chef (Japanese, French, Italian Cuisines)

Kyoto Pastry & Bakery Art College

Professions you can aim for

Confectionary hygienist (Japanese confections, Western confections, cafe, bread)

Kyoto College of Hotel, Tourism & Bridal Management

Professions you can aim for

Hotel, Travel, Bridal Staff

Kyoto College of Nutritional & Medical Sciences

Professions you can aim for

National Registered Dietician, Dietician, Medical Officer Administration and Medical Secretary, Health Information Manager
For those who are interested in Japanese culture and society
and want to improve their Japanese.
Kyoto College of Hotel, Tourism & Bridal Management
Hospitality Business Program
International students only
Fields you can learn
Hospitality, Business Manner, Japanese Language and Culture
2

Scholarships are limited

for international students.
Scholarship A

Admission Fee Full Exemption
Full Tuition Exemption (for the first year)

Select Type
Scholarship B

Admission Fee Full Exemption
Partial Tuition Exemption (up to 300,000 yen exemption for the first year)

Special Scholarships for International Students

100,000 yen exemption on Admission Fee

All enrolled students
Global Scholarship

160,000 yen reduction for Facilities and Equipment Usage Fees

All students of the Hospitality Business Program
All scholarships can be applied at the same time.
In addition, tuition payment by installment system and deferred payment system will also be provided.(Payment by installment is a system in which tuition can be paid in four installments a year.)
3

Complete supporting system
The class teacher or the teacher in charge of employment and the international student advisor will give you full support. The scope of careers will be expanded, with new "Specified Skills" and "Designated Activities" resident statuses!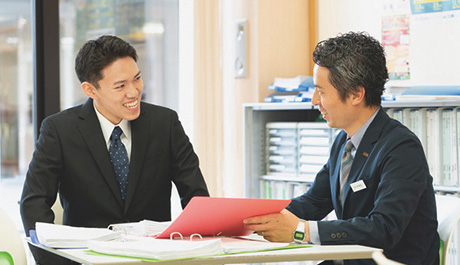 4

Learn hospitality in the International Cultural Tourism Capital "Kyoto"
Kyoto is one of the world-leading tourist cities. You can experience traditional Japanese culture, such as food culture, tea ceremony and flower arrangement. In addition, one out of ten people in Kyoto are students, which makes the city a lively gathering place for young people.
We have implemented comprehensive preventive measures against Novel Coronavirus infection

(COVID-19).
Each school of Taiwa Gakuen has taken preventive measures against Novel Coronavirus infection (COVID-19). Considering the educational effects and subject characteristics, in addition to the effective combination of face-to-face courses and distance education course, we also installed temperature measuring equipment at the entrance so as to conduct daily health checks, hand washing and disinfection.